Eyecon2 is a particle sizing and characterising system which can be used both in-line and at-line for batch production and continuous processes.
Eyecon2 can provide real-time particle size and shape information essential for process understanding and control. Its non-product-contact GMP design makes integration on most processing equipment very simple, commonly using existing viewing ports and therefore requiring no revalidation of the equipment.
Capture the real-time data analysis and profile of your powders and bulk solids with Eyecon2. Troubleshoot and improve end-product goals with particle size and shape data. Adopt automated process control to drive down production cost. Non-product contact measurement minimises risk with hazardous materials. At-line and in-line configurations allow transition from benchtop to in-line integration and evolve with your needs.
Common In-line Applications
Benefits
Usage Areas
• Fluid bed granulation
• Fluid bed coating
• Spheronisation
• Twin screw granulation
• Milling
• Roller compaction
• Extrusion
Eyecon2 is convertible between in-line and
benchtop / at-line configurations.
• Non product-contact
• In-line and benchtop
• Real time size & shape data
• Intuitive & user-friendly software
• Particle images
• Highly portable
• GMP compliant
• Industry 4.0 ready
• Formulation development
• Process investigation
• Quality by Design
• Scale up
• Tech transfer
• Commercial manufacturing
• Continuous Process Verification
• Automated control
EyePASS PARTICLE ANALYSIS SOFTWARE
Key Features
Calculation of D-Values (D10, D50, D90, Mean, Median), Particle Size Distribution (PSD), Eccentricity
Storage of images files of particles (jpg)
Historical data review-see particle size profile of previous batches
User – configurable reports
Report generation including PDF session report, CSV file
Comprehensive user account management including user groups and access privileges
Alarm settings to notify deviation from ideal process trajectory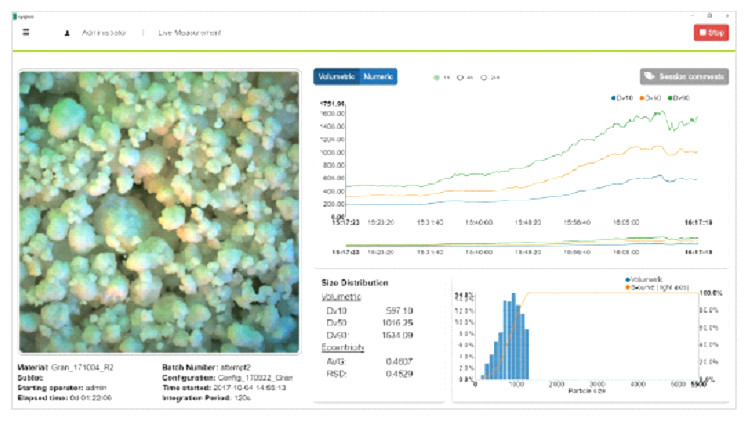 Data Integration
EyePASS provides a number of integration interfaces to
allow users to conform to ISA-S88 Batch Process Control
and ISA-S95
Automated Interface Standards that facilitate reading data output and controlling Eyecon2.

Integration support is available for:
• OPC (UA/DA)
• File polling
• Web Service RESTful API
SPECIFICATION SHEET
Principle Measurement Method
Principle Measurement Method
Direct imaging (non-product contact)
Size Measurement Data
D10, D25, D50, D75, D90 in numeric and volumetric with Mean and Median values all trended in real time, with live histogram and S-curve results. Includes process deviation alarm.
Shape Measurement Data
Eccentricity Average, Eccentricity RSD, Range 0-1
Exportable Data
PDF report of recorded session, CSV file with data on every image analysed with full PSD from D5-D95, captured images exportable as JPEG
Data Processing
EyePASS™ real time particle analysis software installed on a dedicated IPC/PC/Laptop with Windows 10
Measurement Time
~ 5 seconds per image
Material Speed (max.)
≈ 10 m/sec
Dimensions & Weight
Eyecon2 – 250 x 128 x 132 mm (4 kg)
Connection Hub – 254 x 170 x 57 mm (1.2 kg)
Remote ActiveCount
Eyecon2 inc. Automated Benchtop Stage – 300 x 190 x 480 mm (7.8 kg)
304 Stainless Steel, Glass window, Silicon gaskets
Connection Cable
From Eyecon2 to Connections Hub via Speedcon quick-release power & data cable, available in lengths up to 25 m. From Connections Hub to IPC/Laptop via USB
Illumination Source
12 x 3 High intensity, low energy R,G,B LEDs
Imaging Area
11.25 x 11.25 mm
Resolution
2046 x 2046 px
GMP
EyePASS is both 21 CFR part 11 & GAMP5 Compliant
Communications
EyePASS is Open Platform Communications compatible with OPC UA & OPC DA 3
Conformance & Certifications
Conformance & Certifications
CE Marking
EU declaration of conformity
ATEX Certified
The Eyecon2 is suitable for ATEX zones 2/22.
IECX Certs
International Electrotechnical Commission Explosive Standards certification available upon request
IP65 Enclosure
Ingress Protection 6 = dust tight. 5 = water tight from a low pressure jet.