Environmental Monitoring Kaye RF ValProbe II Loggers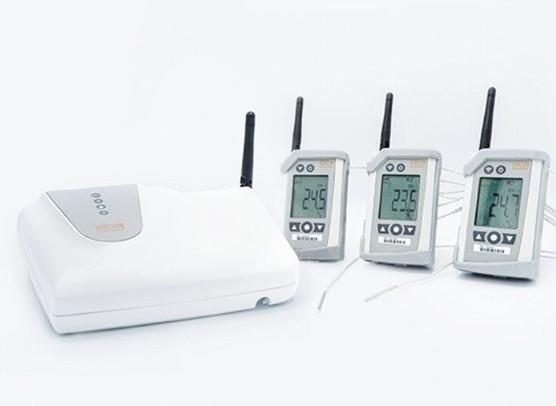 Wireless High accuracy measurement of temperature and humidity.
The Kaye RF ValProbe II wireless data logger integrates breakthrough RF Mesh technology with enhanced technology for Thermal Validation. The operating range of the loggers of -40°C to +60°C and temperature sensor range of -200°C to +200°C make them ideal for real-time RF validation and monitoring of environmental chambers, warehouses, freezers, refrigerators and steam-in-place (SIP) applications.
The RF ValProbe II wireless data logger system utilizes a 2.4 GHz RF Mesh network and multiple redundant data storage to provide ultra- reliable and robust communications and storage of critical validation data. Additional safeguards guarantee data integrity, storage and compliance with regulatory requirements. The RF ValProbe II wireless data logger system is comprised of RF wireless data loggers, a base station and software. The wireless data loggers provide high accuracy measurement of temperature, humidity, and any 4 to 20mA or 0 to 10V output.
RF ValProbe's wireless data logger software enables support for 2-Channel and 5-Channel RF Temperature loggers for validation.
The RF ValProbe II wireless data logger software provides ease of use by incorporating features such as self-configuring of the mesh network and automatic data collection. Extensive graphing, reporting and calculation capabilities minimize data analysis and provide regulatory-compliant reports.